Epic Labs
¿Qué hacemos?
Epic Labs was founded in 2014 by four engineers from Akamai and EMC with the mission of helping companies with their digital transformation and innovation processes, applying Agile methodologies and helping our customers adopt and leverage new technologies that allow them to obtain a competitive advantage in the market.
To always be on the bleeding edge and be able to deliver to our customers with products of excellent quality that will lead them to success, we commit ourselves to attract, take care of and grow the best talent.
Our Labs are an open space specially designed so that our team can develop their creativity, learn and enjoy building awesome applications and software for our customers.
Stack tecnológico
agile
ALMtools
C
C++
CouchDB
CSS
docker
git
Go
grunt
gulp
hibernate
html5
http
jasmine
Java
javascript
karma
mocha
mongodb
mysql
node.js
NoSQL
PostgreSQL
python
REST
Scrum
Spring
TCP/IP
typescript
VMWare
Fotos de la oficina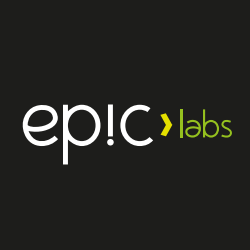 ¿Por qué trabajar con nosotros?
Be Epic!
At Epic Labs we envision innovation, creativity, technology as a lifestyle: Let be Epic!
Our Labs are an environment to share, learn, create and enjoy.
Our secret sauce is simple: bring the talent and make it fun!